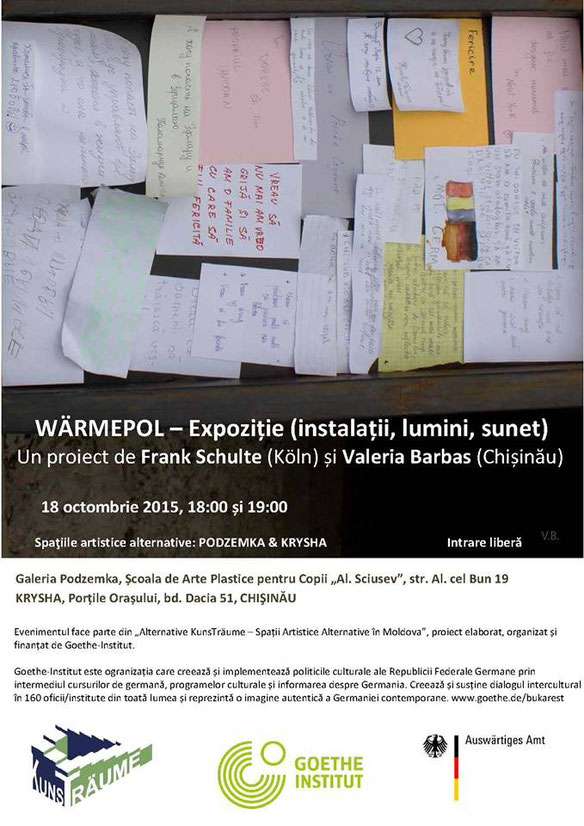 WÄRMEPOL is the title of an intermedia installation project in the urban city space of Chisinau/ Moldavia. The installation consists of two parts that are contentwise connected with each other. Part A also entitled as the "idea generator"  has been realized in an old basement cavern, that is now known as Galeria Podzemka. Part B was scheduled to take place on the terrace of a 25floor hihj building complex at the entry of the city, known as "the gates", but needed to be delayed out of logistical reasons. For the project the artists collected wishes from the citizen of the city, that were either spoken and handwritten on paper and were directed to another person.
The handwritten wishes were collected and hung up on wool threads at leafless branches that were attached to the ceiling of the underground basement. Along with this passable room installation, the artists composed an eight channel sound installation dedicted to the unspoken thoughts.
The spoken wishes were edited and composed to a 35min. radio composition, that was supposed to be transmitted via a local FM transmitter from a geodesic greenhouse sculpture on the terrace of the "gate" building. As this part of the project could'nt be finally realised. The project finds it continuation and completion in spring 2018 as an ongoing permanent local media installation and urban gardening project.
You can find further informations about the project in romanian language  here .
more information about the project can be found at the project supporter KunsTräume site of the german Goethe Institute